HIRING: Prevention Education Coordinator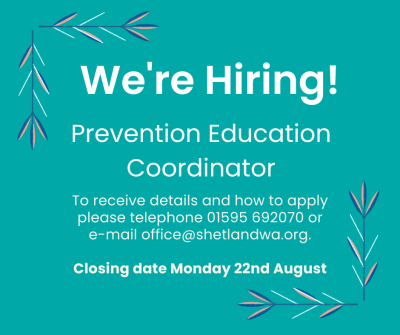 This is an exciting opportunity to develop awareness raising and progress the violence against women (VAW) agenda in Shetland. The post sits within Shetland Womens Aid and is funded by the Scottish Government until March 2025. Ongoing funding for this post is expected to be successful.
The successful candidate will be directed in her role by the Service Manager, who will provide support and supervision. The post holder will work closely with the Shetland Domestic Abuse Partnership (SDAP) Co-Ordinator and receive peer support from the SDAP co-ordinator and wider team.
This is a feminist organisation, and the post holder will be supported to learn and understand, to grow and develop their sense of self and belonging.
Job Purpose
The Prevention Education Coordinator is responsible for planning, developing, managing, and facilitating the Shetland Women's Aid primary prevention education programme delivered throughout Shetland high schools and youth service organisations. The role also involves awareness raising through virtual platforms. The coordinator will manage all data, reporting and activity tracking for grant compliance. They will also be available post-delivery of SWA presentations/content for support and appropriate signposting and referral.
This post will manage communications through our social media, newsletter & website, creating engaging and appropriate content and may be involved in producing press releases and interviews in relation to work undertaken.
Access and Inclusion, equalities and helping facilitate communication with our community is also part of the role.
Values
To work in a way that acknowledges a gender-based analysis of Domestic Abuse as outlined by the Scottish Government and Scottish Womens Aid.
To acknowledge the causes of domestic abuse and how this affects those who experience it, in addition to the impact on the wider community.
The post is 35 hours a week, and the successful candidate will be required to work in a flexible manner that meets the needs of the service. The salary for this post is £28,495 to £31,544 pro rata; this includes a Distant Islands Allowance. We can consider job share.
Women only need apply under schedule 9 (Part 1) of the Equality Act 2010.
To receive details of the post and how to apply, and for an informal discussion about the position, please telephone 01595 692070 between 9am and 4pm, Monday to Friday or e-mail office@shetlandwa.org.
We would encourage you to have a discussion with a member of the team to discuss this role further.
Closing date for applications is 5pm Monday 22nd August.